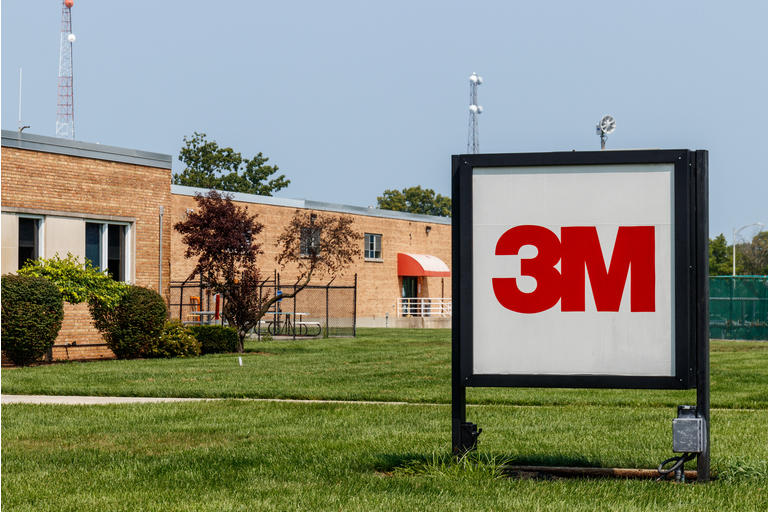 Introduction
The latest market, while not a bear market, has shaken some investors. Investors who were focused on small-cap growth, and enjoyed an amazing run, found themselves in an awkward position. Their investments were down 20%, 50%, and even 70%. While I do hold small-cap growth companies in my Roth IRA, my main asset is my dividend growth portfolio.
Some blue chips are also suddenly much more attractive. After getting used to buying shares for P/E ratios above 20, we see some more attractive valuations across the board. As interest rates are on the rise, we may return to a world where great companies are trading for a P/E of 15-18. One great company that I intend to cover is 3M (NYSE:MMM).
In this article, I will analyze the company using my methodology for analyzing dividend growth stocks. The methodology is described in the graph below. I intend to look at the fundamentals, valuation, growth opportunities, and risks. I will take into account that past fundamentals may not be useful as the company went through significant changes.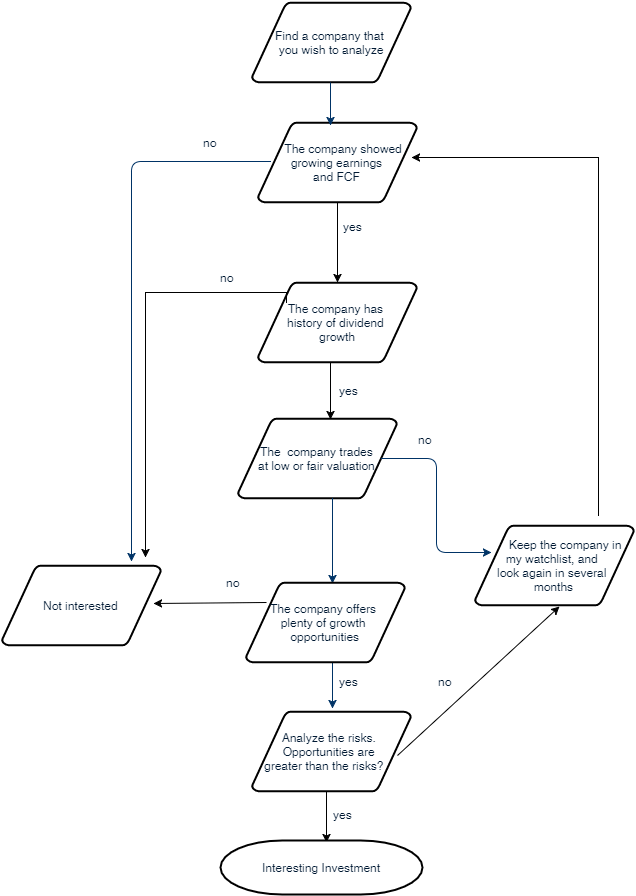 (Graph made by author)
According to Seeking Alpha's company overview, 3M Company develops, manufactures, and markets various products worldwide. It operates through four business segments: Safety and Industrial, Transportation and Electronics, Health Care, and Consumer. The company was founded in 1902 and is headquartered in St. Paul, Minnesota.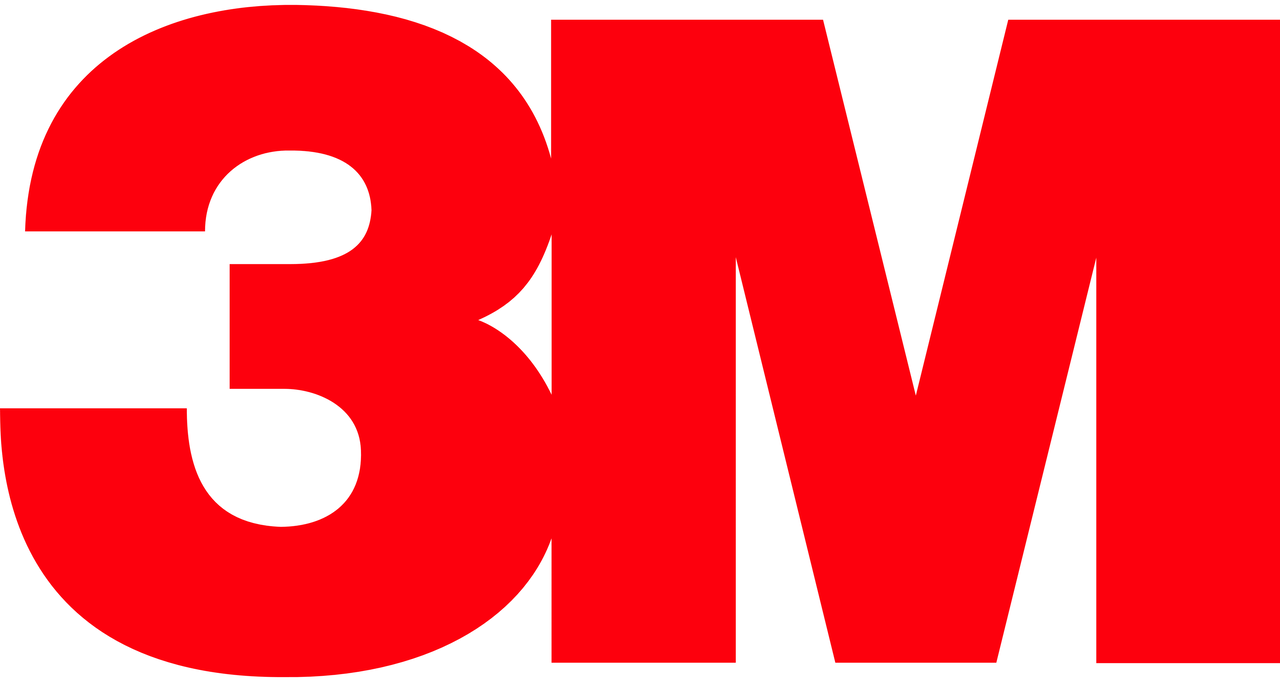 Fundamentals
Revenues have been growing slowly over the last five years. With an annual growth rate of 3%, 3M is a steady slow mover. Most of its growth is organic, as the company is acquiring business from time to time to supplement its current offerings. According to the consensus of analysts on Seeking Alpha's company overview, investors should expect a low-single digits annual revenue growth in the medium term.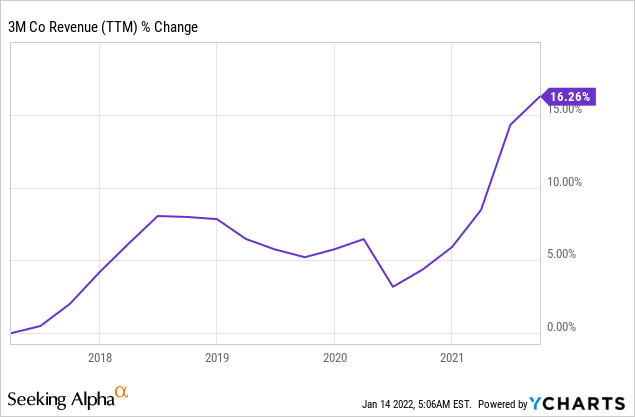 The EPS has been growing faster than the revenues. The EPS growth is fueled by revenue growth, share buybacks, and margins expanding over the last five years. The company expects to keep improving its margins by cutting costs and buying back more shares. According to the consensus of analysts on Seeking Alpha's company overview, investors should expect a mid-single digits annual EPS growth in the medium term.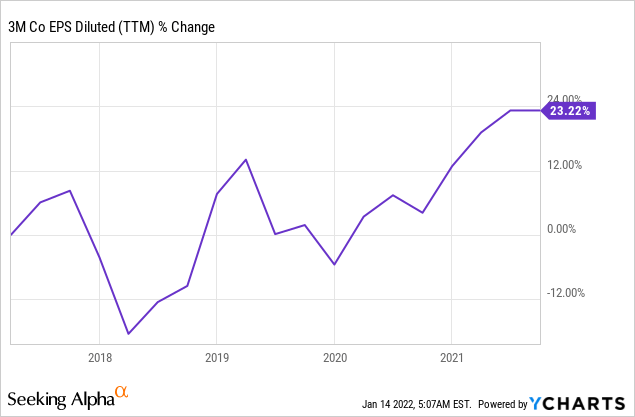 The dividend is one of the brightest spots in 3M's history. The company has been paying a growing dividend for 62 years, and investors should expect another dividend increase in February. However, investors shouldn't expect a large hike as the company is already paying close to 60% of its EPS. The dividend is safe, and the current yield is attractive at 3.25%.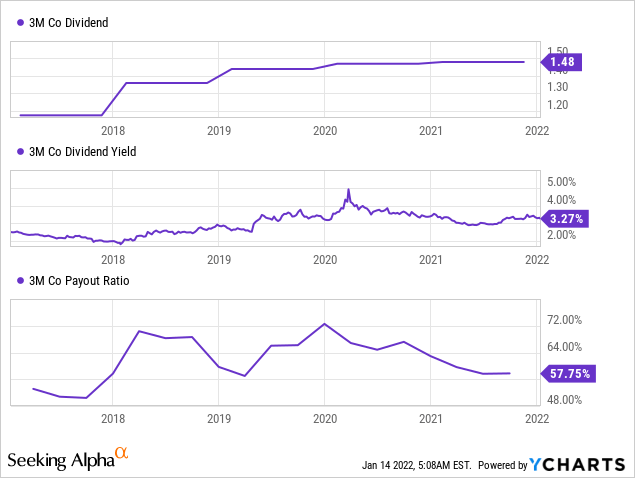 In addition to the growing dividend, the company is also utilizing some of its FCF for share buybacks. Investors shouldn't expect aggressive buybacks, but the company is making sure that investors are not diluted. In addition as the graph below shows, the company does manage to lower the number of shares outstanding modestly. A combination of safe dividends with opportunistic buybacks will benefit shareholders in the future.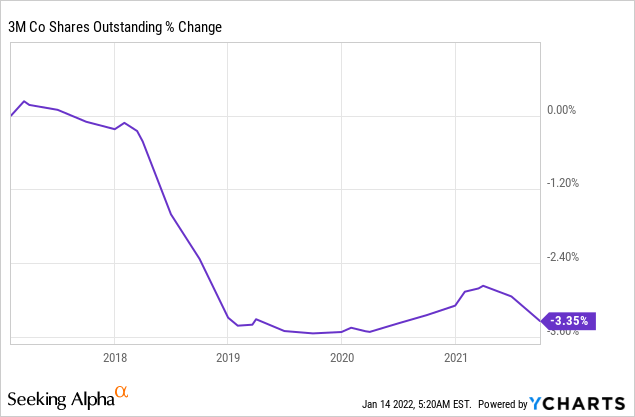 Valuation
The P/E valuation of 3M has dropped significantly since its highs in the spring. The company is now trading for less than 18 times its forecasted earnings for the year. In a world where the indices are still close to an all-time high, finding companies that trade for a decent and fair valuation is good enough. 3M is a good company at a fair valuation.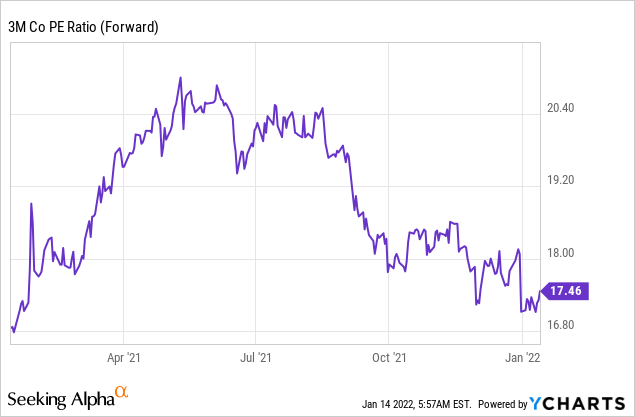 The graph below from Fastgraphs emphasizes that 3M is not trading for an attractive valuation. The average P/E for 3M is 20, and the average growth rate is 7%. Right now, the forecasted average growth rate is still around 7%, and 3M enjoys a valuation more attractive than its average valuation over the last twenty years.
(Source: Fastgraphs.com)
To conclude 3M is offering investors an investment with great solid fundamentals. Growing revenues, fueling growing EPS which turns into growing dividends. This package turns is packed at a fair valuation, that should suit dividend growth investors.
Opportunities
Digitalization is an important growth factor. 3M is an old company, it will celebrate its 120th birthday this year. The company has some product lines that are brand new, while others are 70 years old. Old lines mean less efficient work, and the company is investing heavily in renewing its lines, adding IIoT platforms to command and control them easily, and hiring companies such as Palantir (NYSE:PLTR) and C3.ai (NYSE:AI) to utilize AI to extract more insights and value from the data it has collected.
Rotation from growth to value is also a positive prospect for 3M. Growth stocks are being abandoned as investors are looking for safer investments. In a business environment with higher risks and less monetary stimulus, investors seek once again the safe havens that grow slowly but steadily. 3M will enjoy this rotation as it is one of the most stable industrial companies on Wall Street.
The company's track record is another opportunity in the medium term. The company has a proven track record of growth and a 62-year streak of dividend growth. If we indeed go to a more inflationary environment, investors may choose the companies that have been there in the 1970s and know how to handle the challenge.
Risks
Lack of business focus. The company is an industrial conglomerate with very little business focus. It produces thousands of different products for dozens of industries. Usually, diversification is a positive trait for a company, yet sometimes you can get over-diversified. Diversification is great especially when your products are revolving around a sector, and you can cater to the entire value chain. It's more challenging in the case of 3M, and the management will have to delicately manage it.
Supply chain struggle is another risk. The company is already affected by supply chain bottlenecks. This may escalate even more in the current environment, as the Omicron is making it harder and harder for plants to stay open. This is probably the largest single challenge for 3M in the short term due to its vast diversification and huge catalog.
Inflation is the third risk. 2021 ended with a 7% inflation rate. Inflation has made the basic materials used by 3M more expensive, and in turn, it will have to deal with increased prices or suffer from shrinking margins. It's either shrinking sales or shrinking EPS, and most likely a combination of the two. The company will have to become leaner and more efficient to compete in this environment.
Conclusion
3M is nothing but a great company. Yes, it is a slow mover, but more importantly, it is a steady mover. The company grows its revenues, earnings, and dividends steadily for decades. It has several growth opportunities that will make it more efficient.
There are several risks that 3M will have to deal with, but these are mostly macro risks, and the company has proven its abilities in dealing with them in the past. As more investors shift towards safer investment, dividend growth investors who sometimes lagged the market should keep buying these quality blue chips and ride the wave.