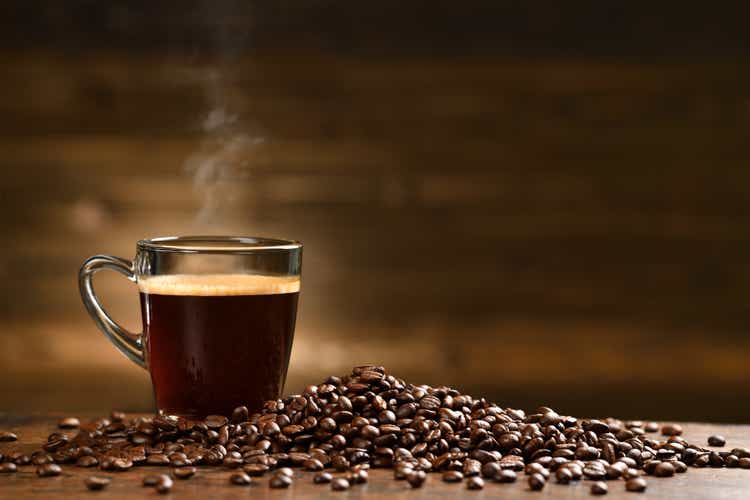 Coffee is a way of stealing time that should by rights belong to your older self."― Terry Pratchett, Thud!
Today, we take an in-depth look at a small cap concern that is in the midst of a turnaround under new management, is cheap on a price to sales basis and has picked up some recent insider buying as well. A full analysis follows below.
Company Overview:
Farmer Bros. Co. (FARM) is a Northlake, Texas based national coffee roaster with an annual capacity of more than 125 million pounds. It is also a wholesaler and distributor of coffee, tea, and culinary products. These operations are conducted out of the company's three production plants, four distribution centers, three equipment refurbishing facilities, and 92 branch warehouses. Farmer Bros. was founded in 1912 and went public in 1952. After achieving an all-time high ($39.39) in 2004 and almost reaching that level again in 2017, thinly traded shares of FARM have languished, trading just over $6.00 a share, translating to a market cap of approximately $115 million.
The company operates on a fiscal year (FY) ending June 30th.
Operations
Farmer sells its offerings through three channels: direct store delivery (DSD); direct ship (DS); and eCommerce. DSD markets coffee, tea, culinary spices, as well as coffee and tea equipment (amongst other products) to restaurants, hotels, casinos, coffee shops, and convenience stores through 216 routes covering ~50,000 points of delivery, making it the country's largest. It also boasts one of the largest coffee brewing equipment servicing teams in the industry. DS sells wholesale coffee and private label products to large national customers, shipped from its distribution centers via third-party carriers to its customers' distribution centers, usually on a cost plus basis. Coffee accounts for approximately half of DSD's top line and ~95% of DS's. eCommerce entails three sites that conduct B2C, B2B, and DTC, but is currently a small part of Farmer Bros. business. The company does not disaggregate its revenues but DSD is clearly the company's leader.
Industry
For the past 109 years, Farmer Bros. has participated in a highly competitive, fragmented, yet deeply rooted U.S. coffee industry, which achieved revenues of $88 billion in 2018, comprised of a $74 billion 'away from home' market and a $14 billion 'at home' market. The company competes with other roasters such as S&D Coffee & Tea, Trilliant Food and Nutrition, Ronnoco Coffee, and Community Coffee Company; specialty coffee suppliers such as Distant Lands Coffee, Starbucks (SBUX), and Peet's Coffee & Tea; traditional grocery store at home brands like Folgers and Maxwell House; offerings from wholesale foodservice distributors such as Sysco Corp (SYY) and US Foods (NYSE:USFD); and club stores such as Costco (COST). All of these businesses have been selling coffee for at least four decades and many of the brands/businesses have developed loyal followings or deep B2B relationships.
Recent Challenges
With a large portion of its top line derived from sales to restaurants, casinos, and other places where people gather, the pandemic severely impacted Farmer's business. However, the company's troubles started before the onset of Covid-19 – after it went on a mini buying spree beginning in 2017. After being essentially debt-free for most of its existence, the company went into hock to purchase tea purveyor China Mist for $12.2 million and West Coast Coffee for $15.5 million during FY17. Those acquisitions were followed by a $42.6 million buy of Boyd Coffee (net of working capital considerations) in FY18. That inorganic growth proved burdensome. After generating Adj. EBITDA in the low to mid-$40 million range from FY14 to FY18, performance began to falter with Adj. EBITDA dropping to $31.9 million in FY19. Revenue only rose tepidly from $541.5 in FY17 to $595.9 million in FY19, while debt surged from zero to $92 million.
These events ushered in a new management team in mid-2019 to get Farmer's house in order. Part of its strategy included reopening a distribution facility on the West Coast to be closer to ~40% of its customer base; thus consolidating the number of regional branches and reducing the number of routes it needed to operate. The no longer necessary branches were sold to improve the company's balance sheet. For its roasting business, management scrapped an inefficient and underutilized manufacturing plant in Houston in favor of doubling the capacity at its state-of-the-art roasting facility in Dallas Fort Worth. Both the plant shuttering and new distribution center effectuated in calendar 2021. The company is now focused on streamlining operations at its other manufacturing and distribution hub in the Portland, Oregon market, where it manages its other two roasting facilities. Farmer Bros. also rolled out handheld sales technology to its rationalized DSD sales force, launched ecommerce sites for its Public Domain, Boyd's Coffee, and China Mist brands, reduced SKUs by 48%, and exited unprofitable customers. In total, management attained and exceeded its goal of reducing monthly expenses by $6.5 million.
These efficiency initiatives were counterbalanced by the pandemic, the effects of which were originally felt on Farmer's top line as its customers saw less traffic. Revenue fell from $595.9 million in FY19 to $510.3 million in FY20 and to $397.9 million in FY21. The impacts then migrated down the income statement with transportation inflation, labor shortages, and higher coffee prices (mitigated somewhat by hedging) all hampering margins. After generating cash from operating activities of $35.5 million in FY19, the company essentially broke even on that metric over FY20 and FY21, and when $32.7 million for maintenance and expansion capex were factored into the algebra, the company's cash situation would have been grimmer if not for all its efficiency measures. The company exited FY21 (June 30, 2021) with cash of $10.3 million, debt of $91 million, and additional liquidity on its revolver of $36.5 million.
1QFY22 Results:
Despite inflationary impacts, Farmer Bros. is really just in need of a turnaround in its DSD business to leverage its profitability-improvement initiatives. Minor signs of life arrived on November 5, 2021, when the company reported a 1QFY22 loss of $0.14 per share (GAAP) on net sales of $108.4 million as compared to a loss of $0.37 per share (GAAP) on net sales of $97.3 million in 1QFY21. The 11% improvement at its top line beat Street consensus (one analyst) by $3.5 million while the bottom line was $0.23 a share better than estimate. Farmer's DSD business was still down 25% versus pre-pandemic (1QFY20) levels; however, that represented a marked improvement over 1QFY21 when net sales were down 41% year-over-year, and a small uptick sequentially versus 4QFY21, which was down 27% from its respective pre-Covid period. Gross margins improved 600 basis points year-over-year to 29% – closing in on pre-acquisition levels of low to mid-30s – largely from the closure of its Houston roasting plant.
With that said, Adj. EBITDA margin, which approached 8% during the acquisition spree and appeared to have troughed at ~4% during the pandemic, is still looking for sound footing. That metric in 1QFY22 was 3.2%, reflecting the company's efficiency efforts more than counterbalanced by inflationary pressures. Management did hint that its customers are willing to absorb those costs, which should portend higher net sales and gross margins in upcoming quarters.
Balance Sheet & Analyst Commentary:
The company's cash position fell slightly to $6 million on September 30, 2021 as it built inventory in front of its peak season, while debt dropped slightly to $89 million, which increased availability on its revolver to $38.5 million. On November 10th, 2021, management filed a $175 million shelf registration, providing it with flexibility if it needs to raise cash. Fear of a secondary offering owing to this move was the culprit in the post-earnings selloff from the mid-$8 level to under $6.
| | | | | | |
| --- | --- | --- | --- | --- | --- |
| ($ in thousands) | FY 2017 | FY 2018 | FY 2019 | FY 2020 | FY 2021 |
| | | | | | |
| Cash & Cash Equivalents | 6,609 | 2,438 | 6,983 | 60,013 | 10,263 |
| Accounts Receivable | 46,446 | 58,498 | 55,155 | 40,882 | 40,321 |
| Inventory | 56,251 | 104,431 | 87,910 | 67,408 | 76,791 |
| Goodwill & Intangibles | 29,614 | 67,739 | 65,102 | 20,662 | 18,252 |
| Accounts Payable | 39,784 | 56,603 | 72,771 | 36,987 | 45,703 |
| Current Portion of LT Debt | 27,621 | 89,787 | – | – | 950 |
| LT Debt Excl. Lease Obligations | – | – | 92,000 | 122,000 | 87,828 |
| Lease Obligations | 237 | 58 | (2) | 15,637 | 20,049 |
| Accrued Postretirement Benefits | 19,788 | 20,473 | 23,024 | 9,993 | 960 |
| Accrued Pension Liabilities | 51,281 | 40,380 | 47,216 | 58,772 | 39,229 |
| Stockholder's Equity | 215,135 | 229,055 | 157,494 | 111,913 | 104,959 |
With only ~18.1 million shares outstanding and a market cap of $115 million, Farmer does not enjoy much sponsorship from the Street, but the two analysts (really now one) covering it (Roth and B. Riley) are bullish on its prospects for a turnaround. Both have 'buy' ratings. Roth has a $14 price objective and B. Riley, whose coverage was essentially suspended with the recent departure of its analyst, had a $12.50 target. The company is expected to generate net sales of $458 million in FY22.
Management made a concerted and somewhat orchestrated effort to demonstrate its bullishness, with the CEO, CFO, and Chief Supply Chain Officer each investing $100,000 into shares of FARM in the low to mid-$6 area in early and mid-December.
Verdict:
With shares down more than 50% from a recent intraday July 2021 peak of $12.94, investors are getting impatient with the turnaround story. With a stated effort to exit unprofitable customers, don't look for the net sales figure to normalize around FY19 levels; and with inflation hitting Farmer's cost structure, the return to meaningful profitability is still sometime down the road. However, the company appears as a car stuck in the mud with its wheels spinning on an incline. When they finally catch, a slow but steady climb should commence. That could occur sooner than anticipated with price increases, and insiders, with their recent purchases, are signaling those are in the works. Currently trading at under a .25 price-to-FY22E sales ratio, just over $6 represents a good 'toe in the water' position entry point for shares of FARM. Given that, FARM merits a small 'watch item' position for now while waiting for more certainty the turnaround effort is gaining traction.
Even bad coffee is better than no coffee at all."― David Lynch
Bret Jensen is the Founder of and authors articles for the Biotech Forum, Busted IPO Forum, and Insiders Forum