Article content
The Gananoque Business Improvement Area (BIA) and the youth of Gananoque will be transforming the downtown with a special art project.
Article content
"The Gananoque BIA will be adding colour and culture to our downtown core after securing funding to create murals centered around youth, through the Canada Healthy Communities Initiative," said Mayor Ted Lojko, in a prepared release. "This funding is an investment from the Government of Canada to transform public spaces in response to COVID-19."
Working hand in hand with local artists, the young people will be encouraged to create and produce a special mural to not only enhance the cultural appeal of the downtown core but to give them the voice that will speak to the community and leave it with a favourable impression.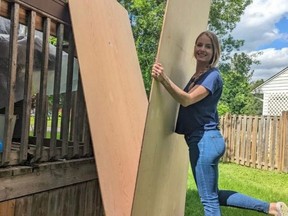 "The Gananoque BIA board of directors was able to engage local artist and teacher, Mallory Bishop-Brown and artist, Shane Goudreau of Kingston to work with our local youth in the development of murals to be placed in two separate locations within our BIA," said Lojko. "In collaboration with her Grade-7/8 students at the Gananoque Secondary School (GSS), (Bishop-Brown) will be creating two 4×8 murals that will be displayed outside our local visitor centre at 10 King St. East. Her students will be involved with the creative process from concept phase to completion and are eager to share their voices and ideas."
Gananoque's youth is the main focus of this project, and the murals will be based entirely on their ideas, enthusiasm and creativity.
"(Goudreau) will be creating large murals that will be placed throughout the walkway that connects King Street to the Garden Street parking lot in the downtown core. He will be working with the Grade-9/10 art students at GSS and developing a concept based on their feedback and ideas. He will be involving the class in his creative process and inviting them into his studio to see the murals come to life."
Article content
Already hard at work, students are taking field trips to learn more and starting to put some of their ideas into action. From creating the basic ideas to painting the panels and installing them, these young people will be involved with every step of development.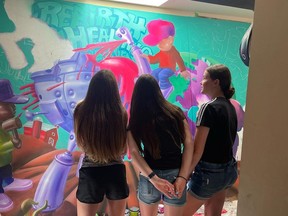 "Throughout the duration of this project, the BIA will be sharing photos and videos that can be found on the BIA's social media accounts (Facebook and Instagram), this will allow for the documentation of the process and share with the public the excitement and creative processes."
For more on the project and its progress, go to facebook.com/downtowngananoqueBIA and instagram.com/downtowngananoquebia/?hl=en.