New resources have been launched by Accenture to encourage young people, in particular girls to consider future careers in the STEM sector.
STEM, which stands for science, technology, engineering and maths, continues to be a male dominated sector in Ireland.
The new resources are being rolled out today to mark International Day of Women and Girls in Science.
Accenture has also carried out research which suggests that young people are not being given enough information about future career options.
Speaking on Morning Ireland, Paula Neary, managing director and STEM sponsor at Accenture in Ireland said the findings show that there is still a lack of understanding among Irish people about what STEM subjects are – and what a career in STEM looks like.
"There is a lack of information for our students, teachers and parents on STEM opportunities," she said.
"The research also highlights the lack of role models in this area, particularly for women," she added.
We need your consent to load this rte-player contentWe use rte-player to manage extra content that can set cookies on your device and collect data about your activity. Please review their details and accept them to load the content.Manage Preferences
Ms Neary said a broad range of jobs fall into the STEM sector.
"There are career opportunities in healthcare, sustainability, climate change, life sciences, business, finance – and of course the tech sector.
"There are also opportunities for designers, creators, data analysts, as well as engineers and scientists," she explained.
As part of the 'Women on Walls' campaign, Accenture has collaborated with DCU and Scoilnet, the Department of Education's official portal for teachers and schools, to create a 'STEM hub' to provide resources to both primary and secondary students all over the country.
The hub contains a variety of resources to promote STEM in the classroom, including profiles on female leaders in STEM.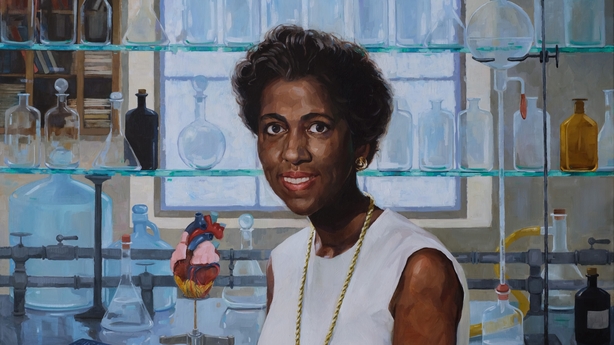 "The profiles include Dr Lydia Lynch who is an immunologist, Professor Emma Teeling, a Zoologist and Dr Sheila Tinney, the first Irish woman to receive a PHD in maths – so lots of inspirational role models," Ms Neary said.
Along with the profiles, the hub contains learning activities, videos and teaching ideas.
For senior cycle students, there are suggestions on how young people can pursue a career in STEM.
Ms Nearly said businesses in the sector can also play their part, by helping to encourage young people to explore the possibilities of a STEM career.
"A great example is the STINT programme, or the STEM Teacher Internship programme," she said.
"This is run by DCU and is supported by the 30% Club Ireland and Connecting Women in Technology.
"This is where companies give both primary and second level teachers a paid internship during their teacher training, so they get some work experience across the STEM sector and that will enable them to bring STEM to life in their classrooms and inspire and educate their students."
Ms Neary said she would also encourage businesses to create structured transition year programmes for second level students.
"These bring to life the possibilities that are available for students who are making subject and career choices, so they can make informed decisions and not miss out on exciting opportunities.
"It is important for young people to see role models in action, because if you can't see it, you can't be it," she said.