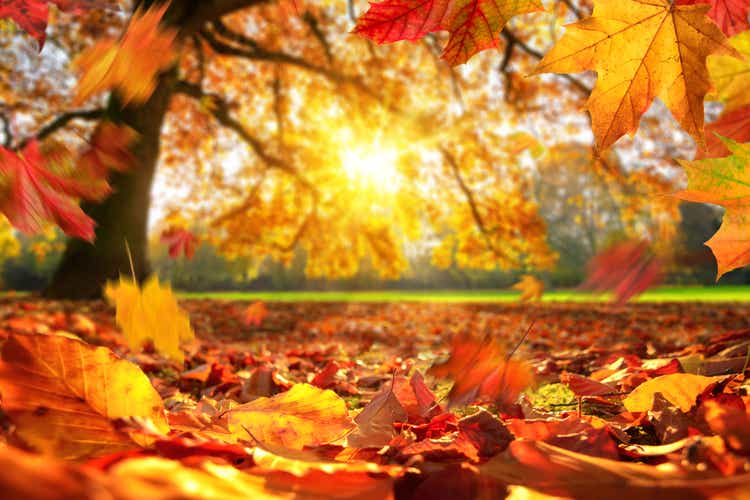 TCG BDC, Inc. (CGBD) is a business development company with a portfolio of secured loans to borrowers in the middle market. While the sector has sufficient tailwinds to maintain performance, CGBD falls short when compared to competitors.
Who is CGBD?

Source: www.tcgbdc.com
CGBD is a publicly-traded business development company. BDCs are specialty finance firms that provide financing packages to middle market with $25 million to $100 million in annual EBITDA. The middle market is generally unable to access the capital markets independently, so they must finance via specialized lenders. BDCs operate under a similar tax structure to real estate investment trusts or REITs. This means BDCs must distribute 90% of taxable income to shareholders to remain exempt from corporate-level taxes. This structure combined with the high interest loans generated by BDCs often results in powerful dividend yields for investors. While BDCs come in different shapes and sizes, the sector is limited in number. Each firm offers investors a unique value proposition.
CGBD is managed under the Carlyle Group (CG) umbrella. For those unfamiliar with Carlyle, the firm is a global investment manager overseeing private capital across three business segments: Global Private Equity, Global Credit, and Global Investment Solutions. With $293 billion of assets under management as of September 30, 2021, CG is one of the largest investors in the world and capable across their business segments.
Portfolio & Strategy
CGBD has built an impressive portfolio over the short life of the fund. As of the third quarter, the firm managed debt and equity investments in 118 target companies diversified across 29 unique industries and other funds. The portfolio is primarily comprised of debt investments with a smaller allocation to equity (2.7%). The portfolio is currently comprised of approximately 85% secured loans, 66% of which are first lien loans. The portfolio is also comprised of nearly 14% "investment funds".
Source: CGBD
One of the best parts about CGBD is the fund's transparency. Investors can use the fund's website to see every investment including a breakdown of debt type and equity. The top ten holdings are listed below for convenience.
Source: CGBD
Transparency is always welcome, especially given the middle market focus of the business development company sectors. The ability to perform some level of independent diligence can support a good night's sleep. Furthermore, CGBD is managed conservatively with a debt to equity ratio of 1.07x, which the firm compares to the broader BDC universe's average of 1.05x.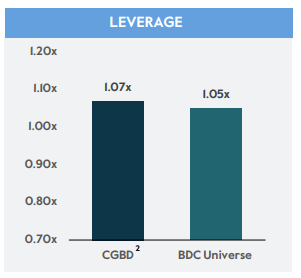 Source: CGBD
It would be inappropriate to gloss over some issues which continue to plague CGBD's portfolio. As we showed, CGBD offers a premium yield as compared to the broader BDC ecosystem. Accordingly, risks are higher and it's important to look at performance through periods of stress. Troublingly, CGBD still has a meaningful portion of the portfolio on non-accrual. 5.1% of the portfolio is non-performing, which is nearly double the industry average of 3.2% according to Carlyle.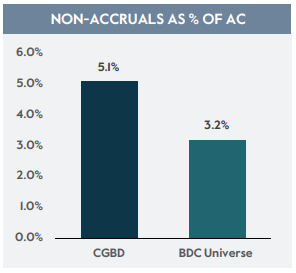 Despite these non-performing positions, the firm still maintains an above-average dividend coverage ratio, indicating the current payment has a layer of safety. As of the last financial report, NII covers 118.8% of CGBD's dividend.
Valuation
When considering different options from the current lineup of Public BDCs, valuation is always an important point to consider. Understanding the valuation model of business development companies can certainly be intimidating. In the simplest terms, business development companies like CGBD hold books of loans made to their borrowers. These loans can be individually valued based on their fair market value. As a result, the portfolio can be totaled, producing a total portfolio value or net asset value. At the end of the day, net asset value is the hypothetical value of the portfolio if it were to be liquidated today at fair value.
CGBD trades at a discount to net asset value. As of the prior quarter earnings release, the portfolio's NAV has now exceeded pre-pandemic levels at $16.65 per share, gaining 3.2% for the quarter. Based on CGBD's current share price of $13.89 per share, the company is trading at a nearly 17% discount to book value. This means investors purchasing shares today are buying into the portfolio at a fraction of the portfolio's value if liquidated at fair market value today.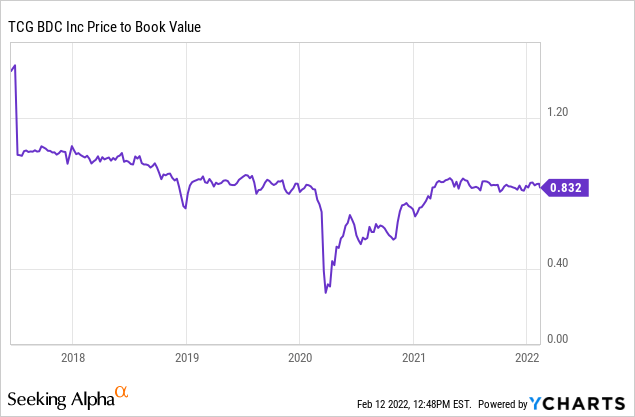 BDCs often cover a relatively wide range on the valuation spectrum. While brands such as CGBD trade at a discount, other top shelf operators often trade at a large premium. While long-term shareholders have benefitted from the expansion in valuation in terms of total return, it can eventually become problematic. Take fan-favorite Main Street Capital for example. The company has all the right strengths behind it. MAIN has a monthly dividend, investment grade balance sheet, and top quartile performance against competing BDCs over long time periods. However, many of these benefits are weighed down by the simple fact that MAIN currently trades at a book value multiple of 1.75x. While shares of CGBD can be purchased for a modest discount to fair value, MAIN shares are trading at a 75% premium to fair value.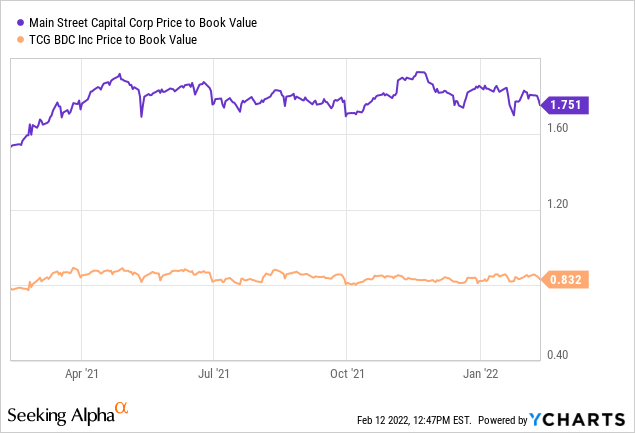 In isolation, the discount is a benefit to shareholders, however, this benefit is only realized should the valuation change. Similarly, MAIN's stretched valuation will primarily become an issue if the valuation normalizes. In the case of CGBD, shares have historically traded at a consistent discount to NAV, meaning you might not want to hold your breath for a sudden run-up to a premium.
Performance & Dividend
The BDC sector has seen solid performance across the entire asset class. Lending across the middle market economy has been hot and cheap borrowing costs have motivated borrowers of all credit profiles to raise capital. The results have been as expected for shareholders with positive returns as issuers continue to deploy capital while their borrowing costs remain low. CGBD shareholders have realized 36% total return over the past year should dividends have been reinvested. Looking further back, shareholders have received a 43.7% total return over the past three years.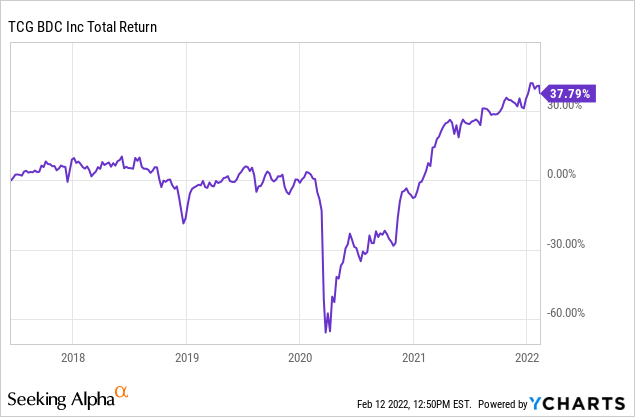 As is the case with nearly all business development companies, CGBD delivers the majority of this total return through high distributions. CGBD outperforms in the dividend department, delivering one of the highest yields in the sector at 9.00% forward yield.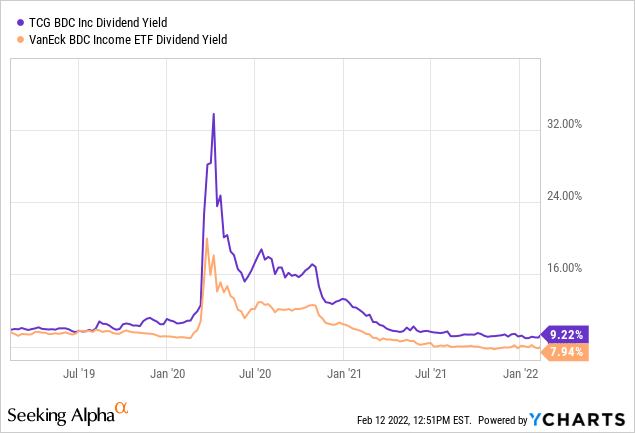 The dividend has not been particularly steady for CGBD, the fund slightly improved following inception as assets were invested, but the pandemic caused damage which resulted in a meaningful cut. In 2020, the fund distributed $1.47 per share as compared to $1.74 in 2019. The situation has improved and the fund now distributes $0.32 per quarter with supplemental distributions each quarter. The dividend is currently one of the strongest on the market, however, some additional consistency would be ideal.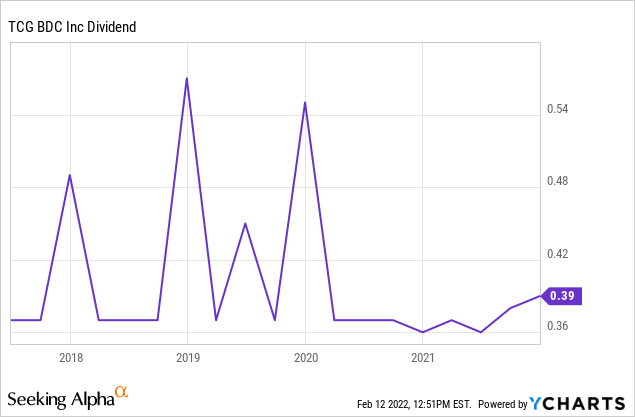 External Management
When selecting a BDC, management style will inevitably become an important decision. Investors approaching the market will quickly notice there are two styles of management for public business development companies, internal and external. An internally-managed BDC is a closed-end investment company with an internally staffed management team. This means the BDC is running as an autonomous company with independent staff, independent board of directors, and a fully disclosed compensation plan. On the other side, externally-managed BDCs are managed by an external advisor for a management fee. The management fees are generally comprised of two components, a base fee from the fund's asset and an incentive fee on the profits. The primary criticism is that an asset-based fee incentivizes the manager to increase the size of the portfolio, sometimes at the expense of quality. By and large, internally-managed companies run on a more efficient level, operating with fewer expenses than their externally-managed counterparts. However, one important note on internally-managed companies which is seldom discussed is equity dilution. While internally-managed companies are required to disclose their executive compensation plans, they are not always perfect. Internally-managed brands offer equity compensation packages to executives, which can be significant enough to dilute existing shares. For those looking to learn more about management styles, Ernst & Young has published some excellent research on the topic. Although the article is primarily about REIT management, many of the fundamental ideas still apply.
CGBD is an externally-managed BDC, managed by Carlyle Group who maintains control over portfolio management. As an externally-managed company, compensation is rich with the fund paying $7.2 million in management fees in the third quarter. Keep in mind, this does not even account for an additional $4.5 million in incentive fee charged over the quarter. This means management fees account for most expenses and nearly 25% of total investment income.
Source: CGBD
CGBD is transparent in their fee structure and details it further in corporate documents. It is consistent with other external management agreements and is somewhat better than the traditional 2%/20% split.
Effective July 1, 2018, the reduced annual fee of 1.00% applies to the average value of the Company's gross assets as of the end of the two most recently completed calendar quarters that exceeds the product of (i) 200% and (ii) the average value of the Company's net asset value at the end of the two most recently completed calendar quarters. Effective October 1, 2017, the Investment Adviser agreed to charge 17.5% instead of 20% with respect to the entire calculation of the incentive fee.

Source: Investor Presentation
In an absolute sense, we believe that an internal management structure is advantageous to shareholders. Assuming executive compensation is aligned with the best interest of shareholders, an internal management structure is simply more efficient once an economy of scale has been built.
Alternatives
CGBD is a strong fund which has delivered on its value proposition over time. That said, BDCs are a unique sector and not all operators are created equal. There are certain systematic advantages that benefit some operators. For example, balance sheet strength means well-established BDCs can borrow at lower costs leading to superior spreads on the same opportunities. Alternatively, the same criteria mean the stronger BDC can obtain the same spread from a more competitive opportunity. Let's briefly explore why Ares Capital (ARCC) has outperformed CGBD.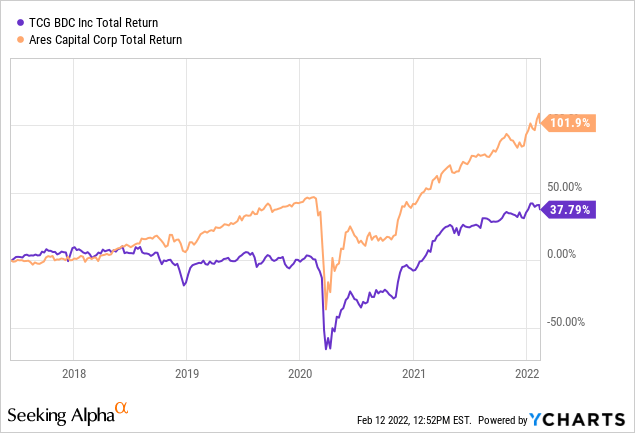 Ares Capital Corporation
Ares Capital Corporation is the largest business development company by market cap at $10.6 billion. Furthermore, Ares is possibly the most experienced manager in the segment with an impressive portfolio of established clients. ARCC has operated since its inception in 2001, generating impressive shareholder returns along the way. ARCC offers a forward yield of 7.44% which does fall short of CGBD's 9.00%. However, ARCC has distributed a far steadier dividend to shareholders and has operated much longer. Even better, ARCC raised its dividend just recently by 2% to $0.42 per share. ARCC has an investment grade credit rating and strong balance sheet, reinforcing the fund's ability to access capital even if rates rise. ARCC has a slightly larger equity allocation as well which has caused some NAV appreciation as well.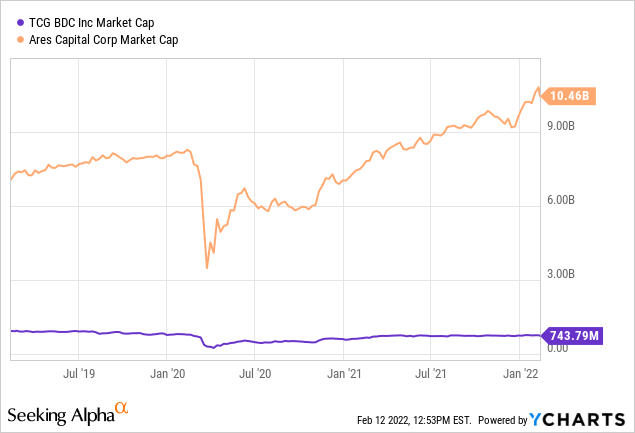 ARCC has outperformed CGBD by nearly every metric, including total distribution to shareholders, consistency of the dividend, and total return. Given size is important in the specialty finance sphere, it comes as no surprise that a large best in class manager has what it takes to deliver superior performance. Given ARCC's scale, performance, and dependability have earned it a spot as a preferred alternative to CGBD. ARCC is similarly managed with an external management structure and not so different fee agreement.
Conclusion
CGBD has proven itself in a highly competitive ecosystem. The fund offers a high yield even compared to other business development brands. The firm has assembled a large portfolio and is overseen by CG, one of the most capable managers in the planet. The fund has all the right components for a top tier company, however, performance leaves us feeling unenthusiastic. The internal vs external management debate rages on, however, there are other factors that are inevitably important to consider as well. In the case of CGBD, it appears as though the fund is simply overshadowed by the performance of competitors such as ARCC and MAIN. In this universe, size and scale are paramount leading to better relationships, economies of scale, and balance sheet advantages. When putting these factors together, the results become compelling.